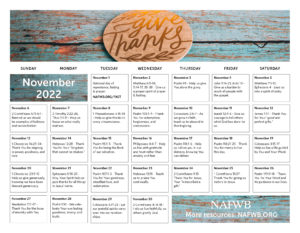 Although there are times when we have all been tired of Zoom in the last few months, the pandemic has taught us that Zoom, and other technologies have created the opportunity for people all over the world to come together. We are excited to announce some of these opportunities.
Find the full list and schedule here and below. To register, email us at questions@nafwb.org to learn about the requirements and expectations to participate in these discussions.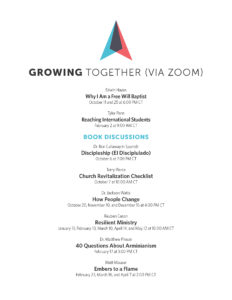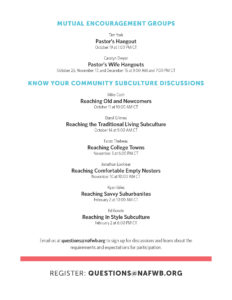 We all learn from reading a good book; however, we can harness even more of that knowledge when we read and discuss. We have several opportunities for book discussions coming up about texts that are used in the Rekindle program.
We can often learn much and be encouraged just by getting together and discussion issues we are facing in the ministry. We will begin launching groups for pastors, and pastor's wives in the fall.
Dr. Tim York will lead a Pastor Hangout. This will be an opportunity for pastors discuss any concerns they have and resources that might be available to them.
Mrs. Carolyn Dwyer will begin providing resources for the wives of pastors with the Pastor's Wife Hangout. During this meeting she will solicit interest in book discussions and individual meetings to help support pastor's wives.
Churches who have taken the Know Your Community report through the Executive Office are welcome to join online discussions on reaching particular subcultures.
Discussions will include Reaching the Rust Belt Subculture, Reaching the In-Style Subculture, Reaching Savvy Suburbanites, Reaching the Traditional Living Subculture, and Reaching Old and New Comers.
Professional Counseling
From time to time, all of us could benefit from having someone we can talk to confidentially. The Executive Office, in partnership with Free Will Baptist North American Ministries, offers the Refresh Program for churches and pastors. A new resource of that program is confidential counseling through professional counselor Tom Jones. If this is something you would like to know more about, call us at 877-767-7659 or email us at questions@nafwb.org and we will explain how you can take advantage of these resources.