2020 Digest of Reports (larger file sizes may take longer to download):
Watch the video below to find out how the business of the 2020 Convention will be handled and how you can participate and watch it live online July 20-21.

2020 Convention Update
As a result of COVID-19, The 84th National Convention will look different this year. Held July 20-21, worship services, seminars, and business sessions (conducted by the General Board) will be streamed online, according to Executive Secretary Eddie Moody, who offers some perspective on the changes:
These days, I often find myself thankful for those who have gone before us. For the first time in the 85-year history of the National Association, we will be unable to meet in person as a body. Our forefathers anticipated the possibility of a situation like this when they crafted Section 13 of the Constitution of the National Association of Free Will Baptists, Inc. "Should necessity arise from war, or pestilence or any cause which prevents a regular meeting of the National Association, whether such a condition is of a local or general condition, then the General Board shall be privileged to call and act with full authority in all matters pertaining to the general welfare of the National Association." They established a means by which we can conduct business this year.
Due to ongoing COVID-19 restrictions, only those necessary to lead services and conduct business will gather in person. We respectfully request all others to join the conference online. Each General Board member will be responsible for fielding questions and nominations from his state or district. The Digest of Reports will be made available several weeks prior to the convention. For a full list of General Board members and their contact information, click here.
A full slate of convention seminars will be available to watch online, starting Monday morning, July 20. These sessions, sponsored by every denominational agency and commission, will be available for viewing throughout and after the convention. Full descriptions of each seminar and panel discussion are available at nafwb.org.
Use this schedule to guide you through the two-day meeting.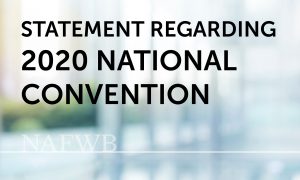 For immediate release: April 20, 2020
Statement Regarding 2020 National Convention
Antioch, Tennessee—In response to uncertainties surrounding COVID-19 and subsequent social restrictions, SMG Oklahoma City and the National Association of Free Will Baptists, Inc., have mutually agreed to cancel the onsite meeting, scheduled for July 19-22, in Oklahoma City. "Unfortunately, because of the international impact of the coronavirus and lingering risks associated with the disease, it is not possible to gather in person this year for our annual convention," stated Executive Secretary Eddie Moody. "In our discussions with Oklahoma City, we concluded it would not be safe to bring 5,000 attendees from all regions of the country into one place as early as mid-July."
A streamlined convention (details forthcoming) will be offered online, according to Moderator Tim York. This is the first time in its 85-year history that the National Association will enact Bylaw 13 (FWB Treatise, page 64) and conduct business through the General Board because the body cannot gather.
Moderator York noted, "Even though we are disappointed, we understand that God can use this situation for our good and His glory." Eddie Moody adds, "While we may not gather physically in Oklahoma City this summer, I urge our leaders and churches to be more unified than ever as we minister to our congregations and communities. Who knows what doors may open to the gospel as a result of COVID-19?"
Further updates will be posted on this page as they become available.
Statement Regarding the 2020 Vertical Three Conference