[Adapted by permission from an article published in the December 2007-January 2008 issue of ONE Magazine,]
"I moved so often I felt like a checker!"
That's how Dr. Mary Ruth Wisehart described her early years as a single teacher living in campus housing at Welch College (then Free Will Baptist Bible College). "We always had to pack up everything when the semester ended and we went home. We never knew where we'd be living when we got back."
Perhaps that's why Dr. Mary (as many call her) and two other single women employed at Welch pooled their resources in 1969 and invested in a West Nashville house not far from the campus.
Myrtle Salutatorian
Life for Mary Wisehart began in 1932 on an Oregon County farm near Myrtle, Missouri.
"I grew up in a house with six sisters," she said. "My dad was a man of few words. He was quiet, steady, and never raised his voice at anybody. Mother and Dad taught us to make our own decisions and deal with the consequences, which meant that if I bought the wrong dress, I still had to wear it."
After one of her sisters married, Mary Ruth's dad told her, "I'm not going to give you away, and if you get married, I'm not coming to your wedding." She believed him.
"Mother was a strong woman," she said. "She liked being treated as a person, not some fragile flower, and so do I. She said there were two kinds of people in our family—those who fainted and those who exercised some will power and didn't. I was not a 'fainter.'"
Converted at age 10, Mary Ruth joined Myrtle FWB Church. According to her sister (Dr. Lucy Hyman), she sang tenor in a women's quartet while in high school and got rave reviews at an all-night singing. She graduated as salutatorian from Couch High School in Myrtle, after promising Mrs. Eunice Edwards at the Missouri Youth Camp that she would consider attending Welch College for one year.
30 Years in English Class
Mary Ruth worked her way through Welch, earning a B.A. degree in 1955. She taught 30 years in the English Department, chairing the department much of that time. She did more than prepare classroom lectures, however. She earned three more degrees (B.A., M.A., Ph.D.) at George Peabody College.
She began three decades at Welch as a speech instructor ("I was scared to death!") before moving to English in 1956. The class she enjoyed teaching most was "Milton." Her favorite poet is Robert Frost.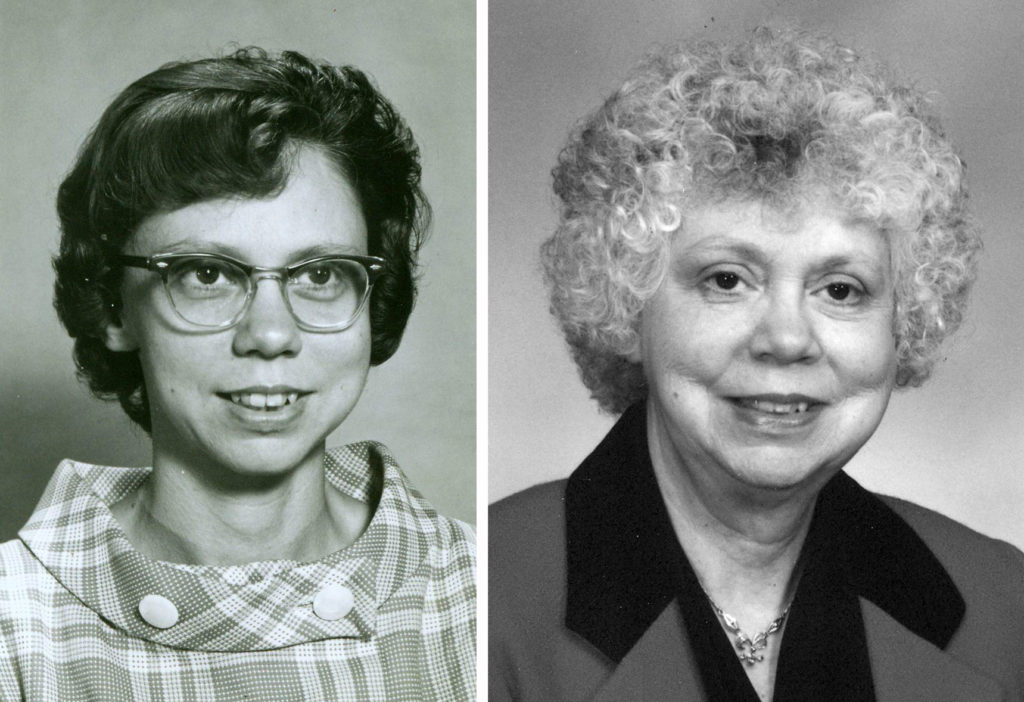 That sparkling 30-year career as an English teacher, playwright, poet, and drama enthusiast almost didn't happen. She went home after her freshman year, thinking she would be unable to return because of finances. However, Welch president L.C. Johnson contacted her about working in the college office, and she returned.
WNAC Visionary
Wisehart completed her work at Welch in 1985 and was elected executive secretary-treasurer for what was then Woman's National Auxiliary Convention (WNAC). At age 52, she began a new career as a CEO and meeting planner, a dual role she held 13 years.
One of her duties was coordinating the annual convention. Approaching the task with her usual energy and creativity, she quickly moved to the front of the class, earning the Certified Meeting Professional (CMP) designation in 1989, the first Free Will Baptist woman to hold the designation.
She also continued her writing career, producing bimonthly editorials (Words for Women) for CoLaborer magazine and monthly columns (Woman's Window on the World) for Contact magazine. She wrote Sparks into Flame: A History of WNAC (1985), compiled/wrote Beyond the Gate, the autobiography of Mabel Bailey Willey (1998), revised the WNAC Manual (1995), and edited The 50-Year Record of the National Association of Free Will Baptists (1988).
Another first-ever designation came when Dr. Wisehart served 10 years on the Free Will Baptist Historical Commission and chaired the commission, the only woman to serve in either capacity.
Bumps Along the Way
"I've had it so easy," Mary Ruth said, "while some of my friends have had it so hard." Perhaps easy is in the eye of the beholder. For instance…
Dr. Wisehart battled cancer three times (1987, 1993, 2001), undergoing chemotherapy twice and surgery once. Shortly after retiring from WNAC in 1998, she was mugged in Uruguay. The thief stole her purse, passport, credit cards, traveler's checks, and broke her left wrist.
Two years later, she fell and broke her left arm, requiring shoulder replacement. During the recovery period, she typed emails one-handed using all caps.
There have been other bumps and surgeries, including a burst appendix at age six. However the hardest thing she ever did was go into her sister's (Marie) apartment and remove her belongings after she was killed at age 42 in an automobile accident.
Single Women Who Retire
Deciding that she would probably not marry but live as a single person, Dr. Wisehart took the advice of long-time friend (Mrs. Mary Welch): "As a single woman, live as though you'll get married, but save as though you'll never get married."
Her early retirement funds were channeled through her 30-year employer, Welch College. When she came to WNAC in 1985, she enrolled in the Free Will Baptist retirement plan, subsequently settling her account in 2003 and choosing a single life annuity.
"I was only in the plan 19 years," she said, "but the annuity checks are a big help. More women should consider participating in this program."
She selected WNAC as annuity beneficiary after her death. "Don't worry," she laughed, "the annuity is not so large that they'll be tempted to kill me in case I live too long!"
Mary's Way
What's ahead for Mary Wisehart? She's bright, she's curious about life, and her schedule is demanding. For the past three years, she has served as a volunteer greeter at Nashville's Cheekwood Botanical Garden and Museum of Art and does volunteer work in the gift shop.
She zips around Music City keeping business appointments and networking with friends, and takes an active role caring for 89-year-old former WNAC executive secretary-treasurer Cleo Pursell. She keeps her hand in the field of journalism, and she's the nursing home volunteer ombudsman for Middle Tennessee. She has volunteered in the women and teen prisons, and traveled from Europe to Africa, Cuba to Brazil. There's more, but you get the idea.
Cancer can't stop her, a mugger didn't deter her, and deadlines don't frighten her. Since she's not a fainter, Mary Wisehart simply exercises more will power and gets the job done. That's Mary's Way.
About the writer: The late Dr. Jack Williams was editor of Contact magazine for 30 years and a long-time member of the Free Will Baptist Historical Commission.
Fast Facts
College Nickname: Squirrel
Favorite Book: The Wounded Healer
Most Outstanding Student: Free Will Baptist Bible College
Writer: Sunday School and Church Training curriculum, Depth (devotional booklet)
Member: Cofer 's Chapel FWB Church, Nashville, Tennessee
Education
Ph.D., George Peabody College, 1976
M.A., George Peabody College, 1961
B.A., George Peabody College, 1960
B.A., Free Will Baptist Bible College, 1955
Diploma, Couch High School (Myrtle, Missouri), 1950
Positions Held
WNAC Executive Secretary-Treasurer
Free Will Baptist Historical Commission, Chair and Member
President, Cumberland District WAC
WNAC Field Worker
President, Cumberland District WAC
Faculty, Welch College